Chet's Cheap Grub Grill --Food Frivolity and Adventure Stories
Chet's Cheap Grub Grill --Food Frivolity and Adventure Stories
Saturday
Come on in. You look like you could use a hot cup of joe. Tea? Sure I got tea. Lipton. Yea, this rain is sumthin' else. Supposed to clear tomorrow they say. Whyn't you put your coat on the post and let ole Chet serve you up a little late night special? Here you go bub, Hobo Chili. Hum, hum some tasty eatin' brother. It is good isn't it...especially on a cold night like this. Where did I get the recipe? Well now let me see. I was out in Arizona, between careers at the time... continued in Episode 1

Note: Unlike most blogs, Chet's posts read from earliest to latest. For the most recent post go to the bottom of the page.

Wednesday
Episode 1 -- Hobo Chili ala Chicago Max
Recipe of the Week:
Chicago Max's $7 Chili
Birth of the Recipe:
I was between careers and found myself in the company of a group of ruffians disaffected from society much as myself at the time. We were holding court under a trestle somewhere between Kingman and Flagstaff, AZ waiting to access the accommodations of a rail car, courtesy of AT&SF. Our discussion had carried to the point of what was on tap for the evening feed. From out of nowhere appeared a behemoth of a man carrying a large canvas tote slung over his shoulder. The ominous fellow sat down, pulled a crumpled red pack of Pall Malls from his tattered but obviously expensive herringbone jacket. He lit a cigarette with a book of matches he dug out from between the pack of smokes and its cellophane wrapper. After a few deep draws on the fag, he ground the half-finished butt out in his palm and gently placed it into the cuff of his pants. From his tote, the stranger then pulled a variety of tin cans, a medium/large cooking pot and a freshly skinned animal, resembling a rabbit or possibly a small otter. Drawing a gleaming six inch knife from his boot scabbard, our guest chef proceeded to cut the animal(?) into small chunks. His workmanship was meticulous and we later surmised that he may have been a surgeon at one time. Half and hour later, our benefactor had produced a pot of a most delectable chili. When we awoke the next morning, the mysterious stranger had vanished. Left behind was a book of matches. On the match cover in bold, embossed letters were the words...
Max's Place -- Sweet Home -- Chicago
Ingrediments:
4 to 5 cans of beans -- pinto, kidney, black, your choice. Figure one can per mouth
2 or 3 cans diced tomatoes
1 can of green chilis and/or jalapenos, depending on your personal heat factor
1 can of corn -- for a little south of the border crunch try hominy
2 12oz. cans of V8 -- don't substitute, V8 rules -- If you can get it, buy spicy V8
Chili Powder
Vitamin O (onion) One large, brown or white
Note:
Half used bottles of taco sauce or salsa that have developed brown crusts around the lip are great addition. Toss in the rest of that old ketchup squeezer also.
Ground Beef -- 4 to 6 oz. per mouth dependent on size of eator and date of last meal -- Use the low fat (7%) grind. This substitutes for the animal used by Max.
Utensils:
Large pot
Wooden spoon
Sharp knife (dull knives in kitchen mean death!)
Can opener
Spark plug gapper (optional)
Let's Cook!
Toss the meat into the pot and cook over medium heat. Stir occasionally. Cook until brown.
Add the chopped Vitamin O, Green Chilis, one can of V8, stir and let simmer for a minute.
Add the beans (juice included) -- the diced tomatoes -- and the corn (drained).
Add any leftovers in the refer that are of a red color (except for Jello).
Toss in a pinch or two of chili powder.
Stir and let simmer on low heat for about 30 minutes.
Note #2:
You can't screw this up unless you pass out or have had a lobotomy sometime in the past.
Leftovers can be ziplocked and stored in the freezer which you'll probably forget about until it's time to move and then you can give it away to the neighbors.
This Just In:
According to R. Hall, President,
Futurehealth Inc.,
cold hands are a sign of stress. Like putting on tire chains in a blizzard causes stress and cold hands. Research indicates that to reduce stress you can warm your hands by several different methods. The most popular method being to "imagine yourself holding and playing with something soft and warm". Yo!!
Until next time, this is Chet saying:
For a healthy, happy life:
Eat an apple everyday. It acts as a natural toothbrush and keeps the "colon flowin."
Hydrate your organs by drinking 8 to 10 glasses of water a day.
Never drink Gin straight up
Don't borrow other peoples shoes
Tuesday
Episode 2 -- Egg-Potato-Meat Pancake -- Phone call to Bobby DeNiro
Joey "no lobes" Schlepatchio

Recipe of the Week:
Chet's Famous Egg-Potato-Meat Pancake
Birth of the Recipe:
I was between careers when I hired on as the mop boy at an up-scale restaurant in Miami Beach. The
Chez Porpoise
had a large beach front clientele frequented nightly by what the local heat referred to as "persons of interest with ties to eastern mob activity." It was rumored that actual ownership of the place fell in the lap of one Joey "no lobes" Schlepatchio.
I was finishing mopping up in the kitchen early in the AM when in walks this palooka that looked like he had catcher mitts for hands and a suspicious bulge under his obviously expensive herringbone coat. " You the only one around bub?" growled the gorilla.
"The name's Chet," I shot back at him.
Staring at me with a newfound respect, the goon replied, "Ok Chet. Again. You the only one here?"
"Just me and old Mose the night watchman," I answered.
"Here's the lowdown Chet. Mr. Piscarnino and myself have had a busy night and we both would like a little breakfast. You know how to run that stove?"
"I can cook with the big gas." What's in it for me?"
The very large man moved surprisingly quick for his size and reached me in two steps. He lifted me up by the neck with his XXL paw until my feet were doing a silent tap dance a foot off the floor.
"What's in it for you Muttsy is you get to keep your head attached to your shoulders instead of me hiding it in one of those
Le Creuset
souz pots."
Ingredimentianos
for Chet's
"Under Pressure"
Early Morning Potato-Egg-Meat Pancake
Eggs -- half dozen
Potatoes -- 2 or 3 -- left over from lasts night BBQ work great.
Vitamin O -- one large onion
Diced green chilis or jalapeno's -- optional but oh very tasty.
Margarine (used to be called Oleo in the old days)
Vegetable Oil
Meat - optional - left over steak, hamburger, ham, meat bits picked off of last nights pizza
Utensils:
- Spatula
- Wooden Spoon
- Good sized skillet with a cover
- Medium size rubber playground ball and a can of "KiWi" Cordovan shoe polish (optional)
Let's be cooking!
Melt the margarine and a little V oil in the skillet over medium heat. The V oil helps to keep the margarine from burning.
Add your diced Vitamin O and saute until they turn transparent
(invisible-like).
Add your meat product. Left over steak cut up in strips, left over hamburger, pepperonis picked off the left over pizza -- whatever you got. Saute with the unyoun.
Add your cut-up left over potatoes to the mix. Stir so the spuds mix with the Vitamin O and meat product.
If you don't have any left over spuds go ahead and micro a couple, wrap and let them steam in foil for 10 minutes. Dice em up and add to the mixture.
Let this mixture cook on medium for 2- 5 minutes stirring occasionally. Stir in the chilis.
Crack about three or four eggs on top of the mix and break the yolks... or not. It's your painting. Paint it however you like. (quote from that artist guy on PBS)
Cover the skillet, reduce heat and let cook for a few more minutes checking to see when the eggs are done and not runny. When done slide it on your
big person plate
and enjoy.
You could also beat or whip your eggs before you add them to the mixture. Also, you can put some of the "pancake" between a hamburger bun or rye toast.
Celebrity Phone Call of the Week:
I tried to call Robert DeNiro but his number was unlisted both in Los Angles and New York.
It's really hard trying to call celebrities.
Chet Wonders Why?
Cat's drink out of toilets. They eat garbage and birds and insects and mice. They clean themselves by licking their furry bodies, including the area around their little pink button. But...if you buy SnoBall a can of food that's on sale instead of Fancy Feast he turns up his nose. It makes you wonder what the cheap stuff is made of.
Monday
Episode 3 -- The Late Night After the Bars Close Bean-Cheese-Rice Burrito
Birth of the Recipe:
(This adventure occurred before I went on the bum. Re: Chicago Max and the
Chez Porpoise
escapades).
I was up late studying for a chem-sci-logarithm-psych final. The coffee pot was empty, the ash tray was full of crushed butts and sleep was beginning to take over.
My roommates (brothers in the Kappa Pi) tumbled through the door in a cloud of beer fumes and thick tongues.
"Hey Chetster! Wzz happenin?" they greeted me chorally.
"I'm ready for the sack lads. Big test tomorrow," I replied.
Pulling a whiskey bottle from a brown paper bag, the already blottoed louts began to continue their sophomoric brain killing derby. Following close behind, a group of their fellow inebriates (including a brace of nice looking co-eds wearing kulots and harachi sandals, too) stumbled through the door ready to begin their duel with Mr.
Daniels.

I knew what I had to do. Quickly I slipped on my Hush Puppies, grabbed my worn but obviously expensive herringbone coat and exited post haste to the neighborhood
Circle K.
I
collected the following:
Ingrediments:
Instant Rice (brown or white)
Refried Beans
Shredded Cheese - yellow or orange family (sliced is ok)
Burrito size tortillas
Hurrying back to my now quite raucous abode, I prepared a platter full of tasty burritos in record time. The revilers became satiated with the mixture of carbohydrates and protein (bad food combo) and were soon sleeping like young children after a long day at the petting zoo. I passed on the idea of awaking the snoring blonde-pixish co-ed for a pleasant chat but opted instead to leave her a note explaining that the effects of alcohol and lack of sleep would soon cause her porcelain skin to take on the appearance of a leather wallet made in a junior high shop class.
As I walked the stairs to retire for the night, I breathed a sigh of contentment. Knowing that not only would I be fully prepared for my morning final exam but that I had also done something damn nice. The power of good food. Cha Ching...Karma points! I slept well.
Utensils:
Bowl to cook rice Bowl to heat beans Skillet to heat torts Seltzer bottle and a plastic shoe horn (optional)
Let' Cook: This recipe will make about 4 burritos.
Cook two cups of minute rice on stove top or micro.
Heat up the refrieds. Add a little water and stir to thin them out a tad.
Tortilla prep method #1: Heat the tort in a micro 10 seconds or in skillet until soft and pliable. (Necessary if tortillas have been left in refrigerator uncovered for more than a week).
Spread the beans on the tort (I use a small spatula but a spoon or your finger works ok too).
Add a couple of spoonsfull of rice. Yes, it is spoonsfull because the noun takes on the plurality.
Add cheese . If you don't have shredded tear sliced cheese into strips. If you notice green spots on cheese cut them off and apply them to any festering wounds or carbuncles.
Fold the tortilla like they do at Taco Bell.
Heat in micro (15-30 seconds) or on butter laden skillet.

Tortilla prep method #2: Cook the tortilla in a small amount of oil until crispy but still pliable.
Add the ingrediments just like prep #1. Cook a few more minutes in skillet for a crunchy version.
Don't forget the taco sauce or the salsa. Also chopped Vitamin O goes with anything. These burritos are good filler but a not-so-good food combo* (2 proteins to 2 carbos). *We'll talk about food combos at a later date.

Food Quip of the Week:
Sheriff Buford T. Justice: "Give me a Dr. Pepper and a Diablo sandwich. And make it quick..I'm in a God-damn hurry." (Smokey and the Bandit)

Celebrity Phone Call of the Week:
I tried to call a few more celebrities but none of them were listed in the phone book. This wasn't a very good idea.
Sunday
Episode 4 -- The Great Northwest Bowel Log Jam -- Recollections of Chuck Heston Holding His Nose
Happy Campers Eating Phuff-Phuff
Birth of the Recipe:
I had made my way north from San Francisco to the timber country of Oregon. It was an uneventful trip and my accommodations aboard an empty Union Pacific railcar were most comfortable. I jumped track around the headwaters of the Coos River and finding myself low on funds decided to seek employment with one of the local lumber
companies. In no time at all I had graduated from clearing brush piles to the job of a cutter. The sight of fifty foot logs careening down the sluice into the Coos River was breathtaking. The air was clean, the company robust. But the food...well now that's where this tale begins. We were living on boiled otter meat and rock hard biscuits, all washed down by thick coffee and cheap whiskey. One evening a general malaise overtook the entire camp. The company of hearty, pink cheeked lumberjacks lolled about in their bunks complaining of back pain and stomach cramps. An old Chinese man astride an Army mule suddenly appeared, riding into camp. He was dressed like some kind of far-eastern shaman except for the tattered but obviously expensive herringbone jacket he wore. He looked a little like Tony Randall in The Seven Faces of Dr. Lao. The Chinaman untied a large gunny from the saddle and without a word made his way to our camp kitchen whereupon he started slicing and chopping whatever it was he carried in the sack. Minutes later the old man had filled buckets full of his mysterious concoction. He declared in broken English, "you eat now...make better phuff phuff." The next morning the lumberjacks were making a sluice of their own. The bowel log jam had been broken.
Phuff Phuff Salad:
Ingrediments:
Red cabbage, green onion, bean sprouts (those long ones with the little whiskers on the end) bell pepper, Paul Newmans Family Italian Dressing, Extra Virgin Olive Oil
Utenseels: Sharp knife for dicing and slicing, bowl to eat out of, skillet for the hot version, wooden spoon, one pair of opera glasses (optional)
Let's Cook!
Cut hunks off the cabbage head vertically with the stem down. Julianne about two cups
Dice up the Vitamin O, sprouts, pepper and celery...one cup each
Dump everything in a bowl...drench with Newmans...set covered in refer for a half hour...dig in!
Hot Version: Heat the olive oil. Saute the cabbage and pepper, add the celery and sprouts... sauteing with the cabbage. Give the skillet a couple of wrist flips...add the green O... cover for a few minutes, spoon into eating bowl and drench with Newmans. Prepare throne room with good reading material.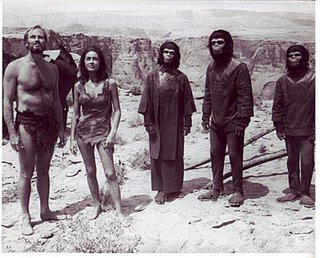 Chuck Heston Pulls a Sissy Move
Did you ever see the original Planet of the Apes? How about the part where the spaceship crashed into Lake Powell and the astronauts were abandoning ship. Did you happen to notice how he-man Charlton Heston holds his nose just as jumps into the water? What a sissy move. I guess you have to give Charl credit for doing his own stunts.
This Just In:
Flash notes from Discover Magazine
Researchers at a Milan, Italy hospital discovered that "people who eat lots of pizza are less than half as likely to suffer a heart attack as those who nibble occasionally." Chet says that maybe the study groups were 12 year old soccer players and old Milanese bums that get their pizza out of the dumpster.
Spinach Fights the Flu: Molecular biologists in Philadelphia are experimenting with making vaccines for anthrax, influenza and the plague. The ingrediments being used? Spinach, Swiss Chard and petunias. Chet says " Yea, but what color petunias?"
Next post: Chet...Assassin -- wherein Chet hunts down an African Warlord
Also, Chet asks you to support his kind sponsers and the wonderful folks at Google by clicking on any of the great ads displayed..
Saturday
Episode 5 -- Chet -- Assassin -- wherein Chet Eats Mwamba Stew
Birth of the Recipe:
I had been stinking drunk for four days and working on five. My host was Mel Famey, a large black man, one time Wisconsin oil wildcatter, now full time bar owner. His place was called Mels. The town was called Moanda. The country Zaire. A month prior I had hired on as a cooks helper aboard a 5000 ton freighter sailing under a Portuguese registry -- the
San Juan Monte Cristo del Queso.
Things were going swell until we were ten days out of Lisbon, a few miles from the Central African coast. The Capitain's wife decided she wanted to play a little pin the tail on the donkey one night with a rich American...or any American for that matter. She was a fan of Hollywood and thought I looked like Farley Granger or was it Stewart Granger? I forget. The Capitain wasn't that impressed with movie stars and so I became the guest of honor for the Portuguese version of walking the plank. They bypassed the plank and two brutes picked me up and gave me the bums rush overboard. Fortunately, I bellyflopped not far from a Congolese fisherman who plucked me out of the drink. We docked at Moanda and after helping my rescuer unload his catch, he escorted me to Mel's for a couple of cold
Skols.
Mel didn't get many Americans in his place and he was starved about news from home. Baseball, politics and old doo wop songs filled the hours. Mel offered me his office couch to flop in until I could get solvent. I spent the next few days entertaining customers with a few impressions,card tricks and a decent mime routine. At nights I played the zither for tips and drinks. The gin was straight up, the beer was warm and the Mwamba Stew filled up the hungry spot.
Things were looking bleak. I needed some real cash flow to pony up with Mel and get the hell out of Zaire. I was working the night crowd with some hot zither licks when
he
walked in. Deveroux. The name still brings night terrors, goose bumps and a localized tic in my right eye. He was tall, well coiffed and dressed to the nines. Silk white pants, sans socks and tasseled
Gucci
loafers. His torso was hairy, but not too hairy and covered only by a very expensive looking herringbone coat. He flashed a diamond rock on his pinky the size of a fat mans big toe. I finished the set and started to pack up when he approached and said, "I like your zither playing Mr. Chet. My name is Deveroux. May I buy you a drink and maybe talk some...business?" His words flowed as smooth as low fat
Miracle Whip
. Mel poured four fingers of gin in two glass jars and placed them on the bar.
"Mel...you forgot the hair in my drink," I growled sounding like a guy who was tougher than he looked.
"So Mr. Deveroux what I can I do you for?" I asked in my best non-chalantae. Deveroux took a long pull from his cocktail and replied, "Mr Chet, have you ever killed anyone? "
TO BE CONTINUED
Mwamba Stew
Ingrediments:
One lb Chicken Breasts (thighs ok) Or any legal meat indigenous to your area
Sea Salt
Vegetable Oil (or canola or whatever's on sale)
Vitamin O -- 2 big ones
Tomato Sauce (big can)
Tomatoes -- 4 or 5 (whatever you can afford without taking out a loan)
Spices -- whatever you like
Uncle Ben's Instant Rice
Utenseels:
Large pot
Sharp knife (remember: a dull knife is dangerous in a kitchen)
Grandmas Wooden spoon
Micro wave safe bowel to cook rice
One slinky toy or the candlestick token from
Clue
(optional)
Let's Cook:
Rub salt (to taste) into meat product
Saute meat and onions in oil until brown adding
your
favorite spice
Cover with tomato sauce
Add cut up tomatoes
Simmer low heat uncovered until meat is tender
Serve over rice
Great Movie Moments:
Lucky Day:
"I suppose you could say that everyone has an El Guapo. For some, shyness may be an El Guapo. For others, lack of education may be an El Guapo. But for us, El Guapo is a large, ugly man who wants to kill us." (
Three Amigos
)
Did You Know?Moderate beer drinking (3 beers a day) may control cholesterol as effective as jogging. A few brewskis seems to increase the level of HDL (the good cholesterol) just as moderate exercise does. Jogging and drinking at the same time did not double the increase of HDL. Sorry. (source: Journal of the American Medical Association)
This Just In: New federal dietary guideline: "When watching TV, get down and do ten push-ups and five sit-ups." No direction to when this vigorous workout was to take place ie; between shows, during commercials etc.
Coming soon -- Episode 6: Mr Chet, Assassin -- A Deal with Deveroux plus Vienna Sausage Sandwich Surprise with guest ingrediments, Wonder Bread and Miracle Whip.






Friday
Episode 6 -- The Deveroux Doublecross ---Junior Mints and Flatulence, The Truth vs The Myth
Deveroux explained who he wanted killed. It seems that EuroPetro had a number of oil sites in the Bandundu Plateau region. Euro-P had a working agreement with the local Bandingo tribesmen and it appeared as though they were set to harvest a lot of black gold. Then a month ago, the security chief for EuroPetro, an American named Dent Puller, pulled up and left the job site. Just walked off into the jungle one day. A few weeks later, Puller surfaces out of the blue followed by an army made up of rouge mercenaries and convinced the Bandingos to join the party. They chased the workers out and Euro-P was shut down. Apparently the natives thought of this Puller character as some sort of mythical god.
"And this is where you come in Mr. Chet. We need someone, an American preferably, to negotiate with this madman."
"And if he doesn't want to negotiate?" I asked.
"We will discuss that unpleasant option tomorrow...at my home...say ten o'clock? Until then here is,shall we say, a down payment for your services."
Deveroux slid a neat stack of pretty Euro banc-notens across the bar. "Consider this a good faith gesture on behalf of my employers." As he walked to the door, the Frenchman turned and said, "Oh by the way Mr. Chet, my tailor makes my expensive herringbone jackets with extra length in the sleeves because of my long reach, if you know what I mean. Until tomorrow I bid you...adieu."
I waited about 15 minutes. I peeled off a couple 100 Euros and stuffed them in Mels pocket. I grabbed a cab to the local airport, bought a ticket to someplace in Europe. After landing, I exchanged the 3000 Euros I had left into $3850 American cimolions. I took a cab to a fancy hotel, got a big room, ordered room service and sat in the tub until it got cold.

The Junior Mint Myth Unmasked
(Data still being evaluated. Look for final results on the next post)

Let's Cook!
I had one of these on the airplane flight to Europe.
Ingrediments:
Loaf of

Wonder Bread




Can of

Hormel Vienna Sausages
Miracle Whip
Pepper

Utenseels:
One butter knife
Battery post cleaner (optional)

Open the can of Viennies and drain the nasty stuff out. Put the nasty stuff in a petri dish and observe on a weekly basis. Carefully pull the weenies out of the can starting with the one in the center first. Slice the weenies top to bottom into halves.
Spread the MW evenly on both slices of bread. Shake on the pepper. Layer the weenies on one piece of bread and then cover with the other slice. Better make at least two sandwiches. Enjoy.

Herringbone coats and pants:
macys


This Just In: Calcium vs Memory
Too much calcium in the system may cause memory impairment according to doctors at Wake Forest University. So the bad news/good news would be that as you get older the calcium supplements you take for strong bones will make you forget about that step you always trip on, on your way out the door.

Thursday
Episode 7 -- Junior Mints Controversy Settled -- Chet Rips Off Jacques Pepin -- Salute to Cousin Eddie
Junior Mints, that much maligned little button of chocolate and mint has long been the target of rumor and false innuendo. Do they really make you fart? Chet and his team of food professionals took the question to the streets to find the truth. Conducting exit polls at major Harkins and AMC mogoliths, a two week study was conducted during the height of movie season, Christmas vacation. Taking the information gathered from the exit polls, Chet and his crew followed scientific formulae one step further and conducted home tests in Chets TV room. The results are as follows:
1. Junior Mints by themselves are not an incitment. The mint is actually a relaxant that helps the escape of excess gas...foul gas that has already accumulated in the bowel.
2. The real culprit of "movie gas" is actually a combination of popcorn and air taken in during the act of eating the popcorn and that bubbly soda used to wash down that butter and salt laden snack. People who are handful to mouth popcorn eaters suffer bigger bouts of flatus than those that pick and chew the popcorn one or two kernels at a time, usually females on a first date. Note: drinking the soda thru a straw will reduce the intake of air, decreasing the formulation of gas.
Conclusion
: The volatile combination of "bubbly" soda, mixed with the popcorn catalyst and followed by the relaxant Junior Mint will cause 'cheek lifting and check the shorts' flatulence on a major scale.
Good Salad Recipe Ripped Off From Jacques Pepin
jacquespepin
Ingrediments:
Pace
Salsa
Modena

Balsamic Vinegar




Raddichio lettuce




Romaine lettuce




Fresh spinach

(bag)


Armour Ready Crisp Bacon




Tyson Chicken Breast Tenders


Extra Virgin Olive Oil (see olive oil ads on chets site)
Garlic cloves, salt and pepper
Vitamin O (red)
Utenseals:
Large salad bowl
Sharp Knife
Skillet
Whisker
One bag of corks and a slightly deflated basketball (optional)
Step One -- The Dressing
The dressing is actually a Jacques P. original, aired on PBS, 1/29/05.
In the salad bowl mix: one-half cup salsa, one-half cup balsamic vinegar, one cup olive oil, cracked black pepper and sea salt. Wisk with wisker

Step Two -- The Greens

Raddichio is the lettuce that looks like a folded up umbrella. It has maroon and white leaves. Cut the rad into bite size chunks. Cut the Romaine into bite size chunks. Add the spinach in the bag with the lettuces. Dump into the salad bowl and toss with the dressing. Cover and set aside in the refer.
Step Three -- The Meats

Mince a couple of garlic cloves and add to hot oil. Cut chicken tenders into strips and saute until brown. Cook eight or ten strips of bacon in the micro. Add the chicken and the crumbled bacon to the greens. Top with Vitamin O rings. Toss again, refrigerate for fifteen minutes. Serve with a nice bottle of chardenae or Ripple.
Great Moments in Cinema -- Salute to Cousin Eddie (Randy Quaid, Vegas Vacation)
Cousin Eddie
: I haven't seen a beatin' like that since somebody stuck a banana in my pants and turned a monkey loose.
Clark Griswold
: Eddie, has anyone ever told you you're bad luck?
Cousin Eddie
:
Those were my mother's dying words. But I guess if your body's covered in third degree burns, and your foot's caught in a bear trap, you tend to start talkin' crazy.
Next: Chet Cooks French Toast for Prison Bulls or Chet Splits a Hoagie with his man-servent orChet Eats Tacos with the Fifth Beatle.
Wednesday
Episode 8 -- Chet on the Lam -- French Toast in France -- The Brown Helmet Paradox
Chet Hides Out
I had gone through the 5000 Euros I had scammed from Deveroux like a Joe Weider enema. My bill at the Hotel Le-Bruno had dipped into the red zone and the maids had quit changing the linens. Fortunately Rene the kitchen boy, who had been delivering my inroom meals, had taken a liking to my Jerry Lewis impressions (LAYYYDEEE!!) and my decent mime routine. He had arranged a job for me at an orphanage run by the Sisters of Burgundy at a little village called Bligny-sur-Ouche. My duties included milking cows, gathering eggs and cleaning the pig pens. I lived in a small thatched hut adjacent to the barn. Life was simple, the air clean and the french toast (
pain perdu
) was not of this world. One morning while in the middle of shoveling pig
merde
, I made the mistake of not securing the gate on the retaining corral that the pigs were herded into while the pens were cleaned. Suddenly with no warning, I was knocked to the ground by a 500 pound sow with eatin' on her mind. One of the orphans, Gaston, who just happened by, clunked the momma pig in the head with the business end of a shovel. It dazed the animal long enough for me to scramble to safety. Gaston explained to me that pigs have actually killed and eaten human beings and how lucky I was that he had happened by when he did. Sacre Blu!! Time passed quickly and I had begun to think about how I was going to get back to the good old U S of A. A loud banging on my door brought me out of the reverie. I jerked open the door. It was Gaston. "Monsieur Chet! Rene called and said you are in great danger. A man named Deveroux is headed here...to do you harm. Rene said to tell you he is sorry but...Deveroux beat him very badly. He had to tell him. You don't have much time!"
"Gaston, I need your help," I said. "Will you help me? It will be dangerous for you." ---TO BE CONTINUED
Frenchie Toast
(Pain Perdu):
Ingrediments:

French Bread is best or Texas Toast is ok too.
Eggs
Butter
Oil
Aunt Jemima Syrup
Schilling Vanilla Extract
McCormick Cinnamon
Utenseels:
Skillet
Spatula
Bowl
Fork
Rawlings

six-fingered Trapeze mitt circa 1964 and a twenty foot piece of opaque tubing (optional)
Lets Cook:
Cut the bread into two inch slices. Whip the eggs in the bowl with the fork until frothy. Add a little vanilla and mix. Pour the egg mixture onto a plate. Heat a quarter cube of butter and a little oil in the skillet. Dip the bread into egg mix. Important -- Dip both sides of bread. Flop bread into skillet and cook until golden brown on one side and slightly golden brown on the other. Serve it up. Can eat for dinner. Try some peanut butter on it. Good.
Increase Your Word Power:
brown helmet (broun hel'mit) noun phrase [arc. 1960's] 1.The act of being crapped on by your date(not getting to first base, going home right after the movie, no chance for a second date) or not being able to get a date after many tries. ex- "Home already Joel? I thought you had a date?" "She gave me the brown helmet." 2. A protective head covering colored brown
You Heard It Here:
Golf courses in Scottsdale, AZ supply salt licks for golfers in the months of July and August. (quote by Paul Chadwell.)
Sunday
Episode 9 -- Showdown With Deveroux -- Pork Chops le Orange
I didn't have much time until Deveroux showed. I knew he had one thing on his agenda. "Damn it!" I shouted. 5000 Euros. What the hell had I been thinking about! Deveroux hadn't tracked me all the way from Africa to talk about a repayment plan. I didn't have a weapon, had no car. I was SOL. Suddenly the light bulb blinked on.
"Gaston, this is something I need you to do." I quickly laid out the scheme for the French lad.
As Gaston hurried back to the main house, I started to put my plan into action. The first thing I needed was my fishing pole.
The hours passed quickly. It was now late afternoon. The sun was at my back as I stood inside the pig corral. Small beads of sweat had sprouted on my forehead and were forming rivulets down my face. The smell of fear was dank. Then I spotted them walking towards me; Gaston and Deveroux. As instructed, Gaston pointed me out and then ran to the main house to make sure the sisters and orphans stayed put and ignorant of what was going on. Deveroux continued toward me. His gait was that of a man with out a care in the world. He stopped short of the corral.
"Greetings Mr. Chet. You're looking well. I have a message from Mel's widow."
Mel. The guy who fed me, let me sleep on his couch and helped with my escape from Zaire. Dead because of me.
"You bastard Deveroux! Why Mel?"
"Mr. Chet, in my line of work, it's not good to be made a fool of. It's bad for business."
"And now you've come to kill me," I said.
"You and your young friend Gaston, I believe his name is. Now that he has seen my face. You know. No witnesses."
"You're gonna have to come and get me Deveroux. If you're man enough!"
Deveroux leapt the corral with surprising speed. He unsheathed a razor-sharp poinard that gleamed in the now setting sun.
It was the moment I had been waiting for. My guess was correct. I had counted on Deveroux doing his dirty work close up. I sprinted for the rear of the corral and pulled on the fishing line that I had rigged up to a wooden peg holding the latch to the gate of the retaining pen. A blur of brown and white exploded from the pen as the now ravenous sows thundered toward Deveroux. I had purposely not fed them their daily slop. A sharp crack was the sound of Deveroux's leg breaking as the first sow butted him to the ground. The rest of the hungry mob surrounded the screaming Frenchman.
The next morning, I gathered up scraps of shirt and trouser, shoes and belt. Also a remnant of an expensive looking herringbone jacket was left. I tossed the leftovers into the trash burning barrell. I noticed a gleam in the dirt just outside the corral. It was a money clip full of pretty Euros. It must have fallen out of Deveroux's pocket as he leapt the fence. The sisters were satisfied with the story of a man come to visit to collect an old debt and leaving empty handed and angry. The poinard lay beneath two feet of pig
merde
. As I said goodbye to Gaston, his eyes assured me of our secret.
Mr. Chet was headed home.
Recipe of the Week:
Pork Chops le Orange
This delectable treatment of pig meat was a standard meal at the orphanage.
Ingrediments:
-Package (4 or 5) of thick cut pork chops
-Red potatoes
-Orange juice
-Fresh asparagus spears
-Olive oil
-Sea salt
-Pepper
Utensils:
-Gas grill or Weber (charcoal) The sisters cooked everything in the kitchen not having discovered the joys of outdoor BBQ. I've found the outdoor grill the easiest with less clean up and shorter prep time.
-Aluminum foil
-Tongs
-One bullwhip and a can of Dr. Scholls Footpowder (optional)
Let's Cook:
Massage
some olive oil on the red spuds and wrap in foil
Drizzle
some olive oil on the spears and season with salt and pepper and wrap in foil.
Marinate
the chops in a ziplock with two cups of orange juice. The longer the better. Two hours is minimummum.
Fire up the grill and let pre-heat for ten minutes or so.
Put the taters on the top rack first and let cook for 15-20 minutes, turning occasionally.
Next come the chops. Brush a little oil on the grill to prevent sticking. You'll cook the chops about 6-8 minutes on each side. Remember--turn only one time.
Put the spears on the top rack after you have turned the chops the first time. Turn them once during the last few minutes of cook time.
Note:
The acid in orange juice acts as a catalyst to break down the muscle fibers in the meat and can be used as a marinade with most any BBQ choice, chicken and chops being the best. SunnyDelight is not recommended. However Orange soda pop can be used. Enjoy and not to worry...your pork chops are not being imported from a small pig farm in France.
This Just In:
Discover Magazine
February 2005
discover
The rate of brain cell development doubled immediately after alcohol dependant rats went on the wagon. *Further studies revealed the male rats fleeing their female mates after the sobering up process was completed.
* "The Girls All Get Prettier at Closing Time" (Mickey Gilley)
Chet says for a healthy and happy life:
-Try to eat 4 or 5 fruits during the daytime. Eat them a few hours apart by themselves to give the digestive juices a chance to work effectively.
-If you have a cat, talk to it as you would any adult except maybe your therapist or main squeeze.
-If you are between the ages of 18 and 35 and are thinking about a long term career with Wal-Mart, don't. Go to school instead.
-Wash your clothes dryer filter with hot soapy water once a month for a more effective use of electricity or gas.
Saturday
Episode 10 -- Chet Meets Vasya Pupkin, Cold War Spy
I was watching the sun come up in a little burg called Grand Prairie, Alberta. I had secured work with an old timer named Cotton. No last name. Just Cotton. He had a feed and grain store along with a fix-it shop on the side. The days saw me sharpening scissors, loading bags of feed into beat up trucks and resurrecting dead Kirbys. The old man provided room and board which consisted of a mattress in the barn, cold cereal in the morning and canned soup for the evening meal. He also picked up the bar tab from the local watering hole every Saturday night as a bonus. Saturday's foray into town was always preceded by a hot bath and a shave. Sunday was a mandatory visit to the Lutheran Church.
This particular morning Cotton suggested I take the day off. "You've been working hard Chet and sometimes a man needs a little time alone. Why don't you take the truck up to the Wapiti (river) and see if you can catch us some fish for supper?" I jumped at the idea and in no time I was headed to the woods. I drove for what seemed like a long enough time to reach the river when a plume of white steam erupted from under the hood. The gauges in the ancient truck were long past operational but I assumed something wasn't right as I pulled off the dirt road. Using my shirt tail, I released the hissing cap only to find the radiator bone dry. Water was needed. I could hear the sound of the river beyond the stand of thick pines and started off in what I thought was the right direction. An hour later I knew I was lost.
...
to be continued
This Just In:
A Rottweiler in Richland, Washington., speed-dialed 911 and barked into the phone. The owner was unconscious at the time. The dog then let the responding cops inside the house.
time.com/notebook
All Lassie ever did was bark and run away.
Koko the gorilla's handlers are being sued by three women for pressuring them to submit to Koko's sign language requesting to see their breasts.
time.com/notebook
It sounds like Koko has been doing some unchaperoned viewing of "Girls Gone Wild."
Rats can differentiate between languages. Rodents trained to respond to one language ignore commands in other tongues say Spanish researchers. This leads to the belief that language skills were in place before mammals learned to speak.
discover/flash
Duh. Haven't these people ever watched cartoons.
Chet Says For A Healthy Happy Life:
-Half a lemon, dash of cayenne pepper and a tbs. of maple syrup (the real stuff) mixed with hot water makes a healthy good morning drink.
-Always check half full beer cans before you drink to make sure there are no cigarette butts in them.
-Eat your salad last.
-If you have a teenage daughter with an i in her name don't let her dot it with a circle or a heart. It looks really asinine.
Friday
Episode 11 -- Face to Face With a Bolshevik...And One Ugly Indian
I turned a complete circle looking for some sign of where I had come from. No luck. Everything looked the same. I found a large stick and started banging on the empty gas can I had carried from the truck to haul water for the radiator. I banged for a few minutes and then stopped, listening. The woods had turned silent. Dead still. So quiet you could hear a squirrel fart. I started banging the can again but this time mixed in some hysteric yelling. Suddenly the little hairs on the back of my neck rose as I sensed movement behind me. I whirled and found myself face to face with a...buffalo.
I stood nose to nose with the ugliest woman I had ever seen. She had rheumy eyes with bags big enough to warrant a $10 tip for a porter. Her head was huge. The face was fleshy and corpulent with lips like two thick slices of liver. She looked like some sick madman's version of Mr. Potato Head.
"I'm lost. Could you help me?" I asked. Her answer was a crack across my arm with some sort of polished stick resembling a mini totum pole. As I stood speechless and a little unnerved at the surprise attack, she motioned with a combination of lip movements and finger gestures to follow her. Having no where else to go, I complied, albeit, hesitantly.
We had walked for only a few moments when I detected the smell of woodsmoke and a strong odor of fish cooking. Suddenly from behind a large pine stepped a large swarthy man with long gray hair and matching beard; his head topped with a red stocking cap and wearing an ankle length herringbone duster. "
Ischezni
!!" he yelled in voice heavy with a Russian accent. "Excuse me?" I sheepishly replied. "
ISCHNEZNI
!!" he yelled louder only this time he pulled out a pistol with a big barrel and pointed it at my face. My bowels went to flutterin'.
"I'm lost and this woman led me here! I mean no harm. I'm just a guy looking to catch a fish and go home. Seriously pardner, I'll just turn around right now and go back the way I came." I was really groveling. He pulled back the hammer on the gun.
"Shut up you fool and walk toward me 5 steps." I marched off five steps.
"Make that 3 more steps
zadnitza
," he growled. I clipped off three more steps which put me with the gun barrel on my nose.
"Close enough funny fellow. What is your name, rank and serial number?"
"Well sir, the names Chet. My social is 527778799 and I don't have any rank to speak of."
"My name is Captain Vasya Pupkin, United Soviet Army Intelligence. You are my prisoner."
This Just In:
-Mothers Milk Turns On Females
It seems that scientific research has shown that smelling mothers milk turns females into horndogs. Read all about it.
discover.com/web-exclusives/sexy-nursing-mom0209/
-Cats in the Crosshairs
The happy folks in cheeseland have decided there are too many cats in town. Watch out Fluffy.
http://boingboing.net/
-"Apprentice" butthead Chris gets arrested because of anger problem. Reaaaaly.
http://www.usatoday.com/life/people/2005-04-12-trump-comments_x.htm
Chet Sez: For A Healthy, Happy Life:
-never ride public transportation or eat food between the hours of 3-5 am.
-do not leave cat food stored in tupperware in the fridge. Especially if you come home hungry from the bars.
-get a visual sighting of your girlfriends mother before you think about long term plans.
-learn the difference between
topical
and
oral
Thursday
Episode 12 -- Chet Discovers the Secret of the Pinetree Line and Tasty Fish Tacos
My Russian captor with his woman following, led me at gunpoint down a small tree-covered ravine and finally into a well secreted cave covered with hanging flora. The inside of the cave was surprisingly large. Animal hides covered the walls and light from a fissure above made the surroundings seem quite comfy. Smoke wafted through the natural skylight from a fire burning in the corner. The decor consisted of a small wooden table, two wooden chairs and a large wooden bed at the far end of the cave. Everything was obviously homemade and bound together with leather strapping. A dusty shortwave radio sat on a well worn tree stump in one corner. The golden sickle and hammer on a field of red hung on the far wall.
"Sit. We eat now," Vasya said. The woman pulled a large fish from the fire. It was wrapped in some type of leaves and tied with twine. She sat it on the table. Next came a large dutch oven full of some sort of bread product shaped liked saucers. I watched as my hosts pulled of hunks of fish and placed them in the bread and ate the combo like a taco. Vasya gave me the go ahead with a nod of his head and I dug in. Incredible taste! We washed the grub down with cups of Stoly. Vasya gave his critique of the meal with a loud belch. After refilling our wooden cups Vasya stared at me and said, "So my -yank my doodle it's a dandy - friend, you want to hear the sad tale of Captain Vasya Pupkin, Soviet spy?" We stayed up late as Vasya told his story while the dancing shadows from the fire kept us company.
In the early 50's the Canadians (RCAF) along with the Americans (USAF) built a system of radar stations that stretched from coast to coast. They were built as an early warning system to the Soviet air threat. Its codename: The Pinetree Line. Not to be outdone, Ivan placed agents within rock throwing distance of each one of the radar stations. The agents job, when the time came, was to jam each of the radar systems to allow Soviet missles and aircraft to invade Canadian airspace undetected. Each agent went through extensive woodsman training so as to be able to forage off the land and stay virtually invisible to the local residents. While on a daily hunt, Vasya discovered Wha-te-no-loc-ah-she-nah (translation: child whose mother was scared by buffalo) tied to a tree. Having been cross-eyed from birth and not the handsomest of children, the elders of her tribe, the Blackwater Indians, decided she was witched and had left her to die tied to the tree so she could not follow. Not having seen a female in years, Vasya decided to set up housekeeping. When the Russkies pulled their agents out in the 70's, Vasya decided he liked the outdoor domestic life and never showed up at the rendevoux to make his escape back to mother Russia. His comman law bride made monthly foraes into town to barter for supplies with woven baskets and hand made wallets.
I slept well that night having met a new comrade and realizing that we are, after all, just one of God's little chillin, be it one ugly Indian (man she sure could cook) or a Russian spy.
What-te-no-loc-ah-she-nah Fish Tacos
Ingrediments:
Fresh fish fillets (catfish, cod, halibut-- any white fish)...but for those on a budget let's use that imitation crab meat. (same stuff they use at Subway)
Frozen dinner roll dough (uncooked)
Lettuce, tomato, Vitamin O
Paul Newmans Italian Dressing
Oil
Utensils:
Frying pan
Pull cord from a lawn mower (optional)
Lets Cook:
Defrost the rolls
Manipulate and stretch the roll dough with your fingers until you get a circle about 8" in diameter. Do this with your shirt on so you don't get chest hairs on the dough
Cook in hot oil until brown on both sides
Drain on paper towel
Add shredded lettuce, diced tomatoes and Vitamin O
Top with hunks-o-fish
Drizzle some Newmans dressing on
Fold like a taco and get after it
If you splurge and buy the good fish, simply fry it up in a little olive oil and break off hunks to go in your taco.
This Just In:
-A Texas woman called 911 to report that her daughter had kicked a hole in the wall. The dispatcher (who was reprimanded) responded, "Do you want us to come over and shoot her?"
www.time/notebook.com
-About to be traded? Here's a large hint. Cincinnati Reds pitcher Aaron Harang took the mound wearing a uniform that read CNCINNATI.
-It's that time of year again...sleeping out in the back yard and looking for satellites and listening to KOMA. KOMA is gone but you can get your
free
Mag-7 Star Charts here>
cloudynights
. Thanks and a hat tip to
www.boingboing
Chet Sez For A Healthy, Happy Life:
-don't swallow fruit seeds especially watermelon because the fruit will take seed and grow in your stomach. (thanks alot Uncle Mose you asshole for telling me that when I was a little kid).
-
older
people should always wear some type of footwear rather than go barefoot. Try some hi-tech flops with good arch support for hanging out
-for a good "cleansing" check out the Lemonade Diet
-kiss your wife goodbye in the morning
Wednesday
Chet Sells Shoes and Eats Pup and Taco
CHET: (VOICE OVER) This is the city; Flagstaff, Arizona. Flagstaff is a city not unlike other American cities. For the cultured, there are art museums and symphony orchestras. For the younger citizens, there are parks and playgrounds, good schools and movie matinees on Saturday. Retired folks can enjoy activities and socialize at several adult centers in and around the area. Those people that break the law can spend time at our newly remodeled and freshly painted city jail. No matter what life style these high-country denizens choose to follow, they all have one thing in common: shoes. That's were I come in. I carry a shoe-horn.
CHET: It was Saturday, July 3rd. It was warm in Flagstaff. I was working the first shift at Thom McAns. My partner is Bruce Knuckles (pronounced Kah-nuck-les). The store manager is Patrice Beard. Her dad built the mall. My name's Chet.
8:57 AM. We were drinking something hot and black and oily that might have been coffee. The first customer of the day walked in... Mrs. Guffman.
KNUCKLES: (WHISPERING) Sheeesh. She's already starting. I haven't even finished my coffee. What do think today Chet? Classic pump or designer sandal? (Knuckles snaps out a five dollar bill and lays it on the table. Chet does the same.)
CHET: Retro loafer or maybe, just maybe...the leather mule.
CHET: (VO) Mrs. Guffman had Zanotti tastes and a Thom McAn bankroll. Shoes to her were like a magic wand. A new pair would exit her from her daily drab existence into a world of make-believe cocktail parties and late evening trysts with Steve Zodiac look-a-likes in the deep end of the pool wearing goggles and a snorkel.
MRS. GUFFMAN: Oh young man! Excuse me, young man.
CHET: Ma'am.
MRS. GUFFMAN: Do you realize you're open sign says closed. I turned it around myself. How do you expect to sell shoes if no one knows you're open? It's like my late husband Bernard always said.
CHET: How's that ma'am?
MRS. GUFFMAN: Never wear anyone else's shoes. Your feet are of one design. No others like them. They're the only ones you have and they're not making them anymore.
CHET: Uh-huh. What would you like to try on today Mrs. Guffman?
MRS GUFFMAN: Well, let me see? I've got tickets to the symphony tonight and then of course followed by cocktails at the reception for maestro Troykovich.
KNUCKLES: (UNDER HIS BREATH) Tickets to the Roller Derby and a reception with a quart of King Cobra and the guy who sprays the shoes is more like it.
CHET: How about a nice white leather mule with a red ankle strap?
KNUCKLES: (ASIDE) To match the nice broken cappillaries in your nose and feet.
MRS. GUFFMAN: I'd like to start with a nice toed sandal. After all it is July.
CHET: Looks that way.
KNUCKLES: Yes! Sandal!
PATRICE:(GUSHING) Good morning Mrs. Guffman! Is Chet taking good care of my best customer? What are we looking for today Mrs. G? We just got in a shipment of beautiful gray suede slingbacks!
MRS. GUFFMAN: Oh yes! Chet! Chet darling, bring out a pair of the slingbacks also.
CHET: (HEADING BACK TO STOREROOM) Right. Slingbacks.
CHET: (VO) While I was shuffling boxes looking for the assorted styles requested by Mrs. Guffman something kept bothering me. Gnawing at me like that in-the-back-of-your-mind rat that chews on your toe when your foot sticks out of the bed covers at night. Like the chill you get when thinking about sliding down that 50 foot razor blade (see worst ways to die #14). Like that tingling you get in your gut when you visualize the trick with the tequila bottle and donkey you thought you saw in a Tijuana bar. Then it hit me. What size shoe am I looking for here?
CHET: (YELLING) What size today Mrs. Guffman?
MRS. GUFFMAN: Six in the slingback and a four in the sandal. And bring out the mules too! Ahh...better make that a six also. No. No, silly me what am I thinking? Make it a 5 1/2 Chet dear.
CHET: (VO) 10:30 AM. Knuckles and I broke for lunch early. Mrs. Guffman had decided on a faux red leather stiletto heel w/black heel strap and a matching handbag; a steal at $19.95. We landed at the Pup & Taco on Milton Road. They deep fry their corn dogs in Rex lard which is the way the foods gods intended it. We grabbed a corner seat by the window.
KNUCKLES: Chet, did you hear about the podman* over at the Payless on Figurora? He really fell for the old "touch and tell."
CHET: Hows that?
KNUCKLES: You know the set-up. Some bombshell walks in and wants to try on two or three different pairs but wants you to help her slip em on then all of sudden yells out that you were touching her leg. You know, stroking the calf, getting a little to friendly. Are you going to eat your fries?
CHET: Sure.
KNUCKLES: Yeh, and then the manager has to make nice with the broad and he ends up giving her the shoes for free and gift certificates that lasts her for months and fires the salesman to boot.
CHET: Uh-huh.
KNUCKLES: So what do you think Chet?
CHET: How's that?
KNUCKLES: Your fries Chet, your fries. Are you gonna eat them?
CHET: (VO) 11:30 AM. We arrived back at Thom McAns. The store was crowded with pre-fourth of July sale hunters.
11:35 AM.
She
walked through the door. Every podmans dream. Judging from her heel-toe glide she was a perfect 6. Gold anklet looped over a clean ankle and the toenails painted a glossy cordovon. My guess was she still had her little toenail intact. She was wearing a brown open-toe designer retro pump . Pure class. Why was she shopping McAns?
CHET: How may I help you...
RENAE: Renae.
CHET: Renae.
RENAE: I'd like to start with maybe a nice leather kitten heel pump, rust or maybe green. Size 6. And let's look at a woven clog; open toe so my little piggies can breathe on these hot, hot summer days.
CHET: Yes ma'am...
RENAE: Renae
CHET: Renae
CHET: (VO) While I was fumbling through boxes in the back praying I could find the clogs and pumps, that old feeling started churning. It starts deep in your gut and then slowly works its way up your backbone like a thin, cold viper until it reaches your neck and then starts to feed on the miniture howler monkey sitting on your shoulder. I found the shoes and headed back to finalize the sale and maybe vitalize a date with Renae.
RENAE: Would you be a darling and help me with this pump. It needs a shoe horn.
CHET: (VO) I grabbed that beautiful ankle and started to work the pump on, manipulating it from toe to heel when it suddenly hit me like a bag of Doc Martens! I was being set up for the old touch and tell.
CHET: Easy does it sugar lips! I know exactly what's going on here. You walk into a shoe store and the temperature goes up 20 degrees from the steam blowing out from every podmans collar. You wiggle those beautiful toes and flash that gold plated twelve-link ankle bracelet like we're all some kind of hungry fish looking to take a bite. Well,
I'm
not biting angel face. You may get away with your T&T scam at Payless but not here sister, not at McAns!
CHET: (VO) 12:02 AM. The sun was straight overhead and hot. I walked the four blocks to my apartment on the corner of Leroux and Aspen. It turns out Renae was Patrices' cousin and wasn't the T&T fraudulator. It only took Patrice about 10 minutes to finish filling out and processing my walking papers. Lost a job and a possible lady friend in one sitting. I hear they need a good podman at Payless.
*podman is a shoe salesman
Chet's Favorite Fast Food:
Corn Dogs at Pup and Taco (gone)
Long John Silvers Platter of Grease
Subway Seafood Sandwich on a 12"; heavy on the vitamin O
Dairy Queen Braizer Burger with a caramel marshmallow malt
A&W Poppa Burger (gone)
Arctic Circle Fries with fry sauce
Sonic Steak Sandwich and Tots w/cherry lime aide
Tuesday
Chet's Food Crimes of the Century!
Food Crime Case #030549
The Case of the Word Series Peas
It was September, 1955. The Yankees and Brooklyn Dodgers were slated to meet for the 6th time in a much heralded "subway(world) series." The rumors that the beloved Dodgers may be headed for the west coast blanketed the air like a damp Coney Island towel. Neil Weatherbee* was headed home (location withheld) after a tough day of (vocation not revealed). Neil was looking forward to a cocktail, a kiss from wife Betty*, a hug from daughter Veronica*, a playful romp with pet schnauser Jughead* and a hot home-cooked meal. What Neil got instead was far from food; it was a
food crime
.
*aliases

Crime Scene Evaluation:
The Kitchen
Let's start by taking a detailed look at the crime scene; the kitchen.
Given the fact that this ultra-modern kitchen has all that the 1955 housewife could want; one would surmise that wife Betty and daughter Veronica were constructing a nutricious and fine tasting meal for the weary Neil who is at this time fighting his way home through the mass of equally hungry man-tribe commuters.
After arriving home, Neil drank his after dinner brandy before his before dinner scotch.
At approximately 7:42 Betty called, "Soups on Weatherbees, come and get it!"
With great anticipation Neil took his seat at the dinner table and gazed upon...
"twice baked potatoes smothered in cream peas" with a side of sliced tomatoes and broccoli. Neil bowed his head as if in prayer. "Shit," he uttered. Neil proceeded next door to his neighbors the Van Pelts* where he spent the rest of the evening talking with Fred Van Pelt* and Fred's old lady Estelle about the upcoming world series. Cheers Neil.
*made-up names
Ladies don't let this happen to you. Food crimes can be avoided. Think before you cook.
Thanks to the good folks at
Plan 59
for the great advertisement artwork.


Monday
Food Crimes of the Century Continued
Food Crime Case #0812056
The Case of the Four Four-Eyed Sisters
This is perhaps one of the strangest cases of food
criminality ever recorded. These four sisters,
although living miles apart and leading four distinct separate lives, managed to create four gruesome dishes on the exact same evening.
Let's begin our story with... Moire.
The shy and enigmatic Moire. Content to live at home after high school graduation while working days as a greeter for the worlds biggest floating airplane, Moire's world changed one fateful day as she pulled into the neighborhood MobilGas for an oil check and a window wash.
That's when she lay her eyes on big Gus. A dullard with a kind heart, big Gus was running in the back of the field but he was top drawer in one thing. Tires. The big lout knew his tires. Long story short, Gus and Moire fell in love, married and started a family. Moire became a stay at home mom and big Gus... big Gus got a white collar (and hat) second job at Tiger Stadium.
Wednesday -- August 21, 1959 --4:00 pm
Moire and daughter A
nnette were busy in the kitchen preparing what Moire thought was a nice mid-week dinner.
Because of Moire's lavish needs, Gus had been making a little money on the side delivering boot-leg tires to an "independent" dealer on the west side of town.
Wednesday -- 7:00 pm
After delivering his illegal shipment of MobilGas tires, Gus waited at a Texaco station for his side-business payoff. A nasty August monsoon blew a gale. A large black sedan pulled up at the pump. The man inside the car handed Gus an envelope full of cash. "I'm done stealing tires for you guys," said Gus. "You're done when we tell you y
ou're done," snarled the hood as he gunned the sedan out of the driveway.
All Gus could think about on the ride home was his beautiful wife, loving daughter and a nice hot dinner. "I'll figure a way out of this," he thought to himself. "A good meal and some sleep... that's what I need."
This story does not have a happy ending. Gus arrived to an empty house There was a note on the fridge door that read "Dinner in stove -- Annette spending night with friend -- Got called into work." This is what Gus found in the stove. Macaroni and Velveeta Cheese topped with Deviled Eggs topped with Velveeta with a tomato halves garnish.
Archives